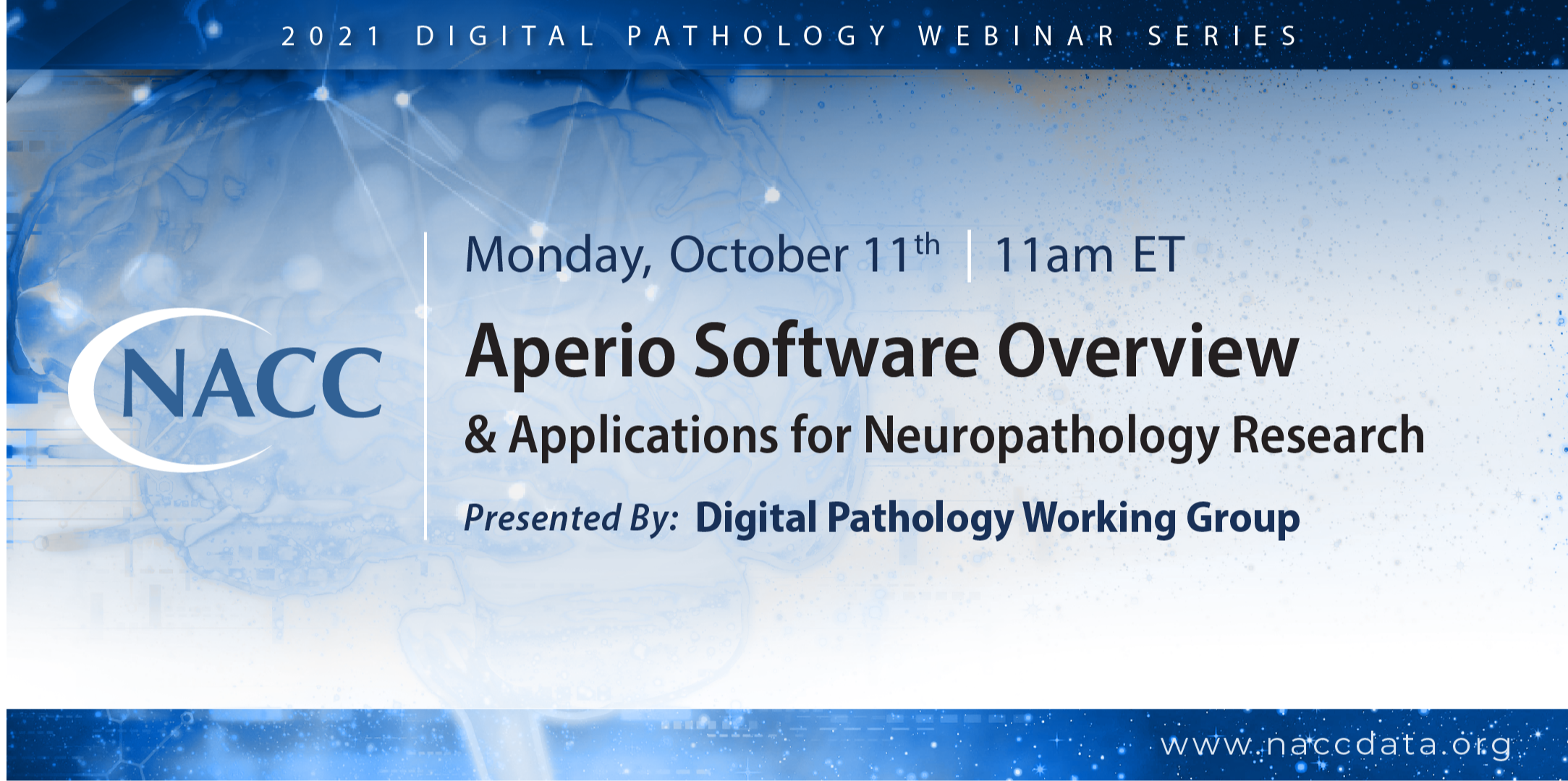 Register Now for our October Digital Pathology Webinar Series Event!
Aperio Software Overview and Applications for Neuropathology Research
Monday, October 11, 2021 at 11:00am ET

The ADRC Digital Pathology Working Group in collaboration with NACC invite you to attend a one-hour webinar session which will provide an introduction and overview on the Aperio image analysis software for quantitative tissue analysis in digital neuropathology research settings.

Our Speakers:
Melissa E. Murray, PhD -Associate Professor of Neuroscience; ADRC Neuropathology Co-Investigator at Mayo Clinic
Alifiya Kapasi, PhD

- Assistant Professor of Pathology and Research Neuropathologist at Rush University



Michael Reagin

- Senior Application Specialist, Pathology Imaging, Leica Biosystems



Sandra Camelo-Piragua, MD

- Clinical Associate Professor; Neuropathology Fellowship Director at University of Michigan
How to Attend:
Please register using the form on this page. Upon submitting, you will receive a follow-up email with relevant event information including the Zoom link and calendar invite. This event is open to the public! Please circulate this page to anyone who would like to join.
Disclaimer:
This event is not sponsored by Leica Biosystems, nor is NACC endorsing Leica Biosystems through hosting and publishing this webinar. The goal of this webinar is for members of the Digital Pathology Working Group and our speakers to share their personal experiences with using the Aperio software and to educate others on the software.
Questions?
Please reach out to Hannah Rosentreter at naccmail@uw.edu with any questions regarding this webinar.